Version v1.20 is here!
HisWord™ Palmtop Bible v1.20
Copyright 1996-1997 by Tom Hoover
All Rights Reserved
---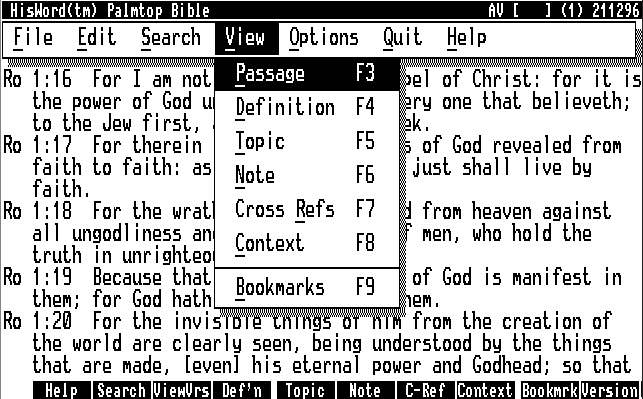 ---
HisWord™ Overview
uses readily-available Online Bible (OLB) datafiles, supporting up to 3 versions in each datafile
allows the user to toggle the display of Footnotes, Strong's numbers & Variant readings
supports "zooming" between 40/64/80 characters per line when displaying verses
maintains a "Search Trail" during your study, limited only by available memory. Pressing ESC at any time will step back one "Level" in the Search Trail"—the Backspace key will clear the Search Trail history.
easily copy a selection of verses to the clipboard, for transfer to Memo or other System Manager applications
view/edit definitions, topics and verse notes
System Requirements
designed for HP 100LX/200LX (it will also run on your desktop computer, if you use PALRUN)
will run either from plain DOS, or from within System Manager (using as little as 280k of memory)
requires as little as 4 meg of storage (HisWord.exe and AV datafiles)
one additional meg is required for the optional Cross References
multi-version datafiles (such as Scholar) are also supported, but will require slightly more memory and storage space
---
Read the FAQ file.
Online Bible datafiles for use with the Online Bible and HisWord™ Palmtop Bible
Since the DOS versions of the OLB datafiles are becoming difficult to find, you may wish to download the following files. Each has already been "installed" by the OLB, and should be extracted using pkunzip's directory switch (e.g. pkunzip -d *.zip) to maintain the directory structure. The extracted directory may then be copied directly to your palmtop.
Scholar – 1769 Authorized Version (King James Version), combined with 1890 Darby Version & 1898 Young's Literal Translation
---
HisWord™ Palmtop Bible is a work in progress. I will accept suggestions for improvements, etc. The following are currently on the "to-do" list:
Add support for wildcards and more complex "boolean" searches (F2 command)
Plus a bunch of other stuff that I don't have time to list right now